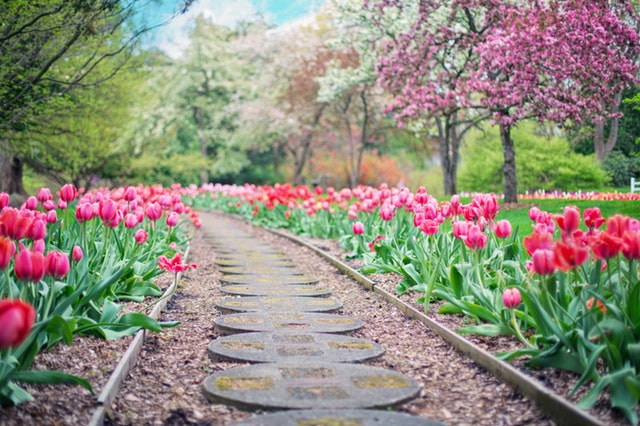 So you're showing your home in a week, and your front yard looks like it belongs to the Addams Family. Now what?
Even if you're strapped for cash and time, there are many quick fixes you can make to boost your home's curb appeal. The next time you get a free day, take an afternoon to make some of these improvements:
Upgrade Your Welcome Mat
A clean, sleek welcome mat can bring instant pop to the front of your home. Forage your local home goods store for a pretty mat that matches your house. You can also look online for custom or creative mats. No matter what kind of mat you choose, make sure it fits the dimensions of your walkway. Don't be afraid to get a funny one; a good laugh can make a great first impression!
Cost: $$
Paint Your Front Door

Once you roll out a nifty new welcome mat, give the rest of your entryway a makeover. Paint your front door in a bold color that matches your house. If you have the time, repaint your trim to help the front door stand out.
Cost: $$
Trim Your Bushes
Your house should be fully visible from the street. Trim any bushes or plants that block the view of your home with hedge clippers or pruning shears. If you have shrubs lined up in a row, try to trim them in a straight line. Even if you're not selling your home, it's wise to stay on top of trimming and pruning.
Cost: $
Update Your House Numbers
This is about as simple and cheap as DIY curb appeal gets. Replace your old house numbers with stylish new digits from your local home improvement store. You can also get house numbers that glow in the dark to make your home more visible. Don't forget to replace the decals on your mailbox! If your house number is painted on the sidewalk, you can paint over that as well.
Cost: $
Improve Your Walkway
If you have a walkway leading to your front door, spruce it up! There are a number of affordably creative ways to bring it to life. Line your walkway with solar torches for an attractive and easy change. Add stepping stones from your driveway to your front door if possible for some more pizzazz. If you've got a green thumb, this is a great opportunity line your walkway with beautiful plants.
Cost: $$$
Plant a Garden

Speaking of plants, a garden can really help your home stand out. Plant some annual flowers like petunias and pansies in your home's front beds. Many annuals are cheap and tend to grow quickly, making for a great addition. If you're hosting an open house too soon or don't have the time or resources to start a garden, you can simply spread some mulch for quick visual appeal.
Cost: $$$
Fence in Your Air Conditioning Unit
Exposed AC units are eyesores. Pick up some affordable plastic fencing to fence in your unit. This is a good opportunity to turn a drab view into a nice one.
Cost: $$$
Update Your Porch Furniture
If you have a porch or patio with furniture, give it a checkup. Check metal chairs and tables for rust, and touch them up with paint. If you have scuffed plastic patio furniture, consider replacing it.
Cost: $$
Take Care of Your Lawn

You should keep up with lawn mowing throughout spring, summer, and most of fall. Pull weeds every couple of weeks to keep them from overrunning your yard. If you don't plan on selling for another year or so, consider seeding over brown or bare patches. Fertilize your lawn to help bring out its healthy green look. Although you can hire a service to care for your lawn, you can probably save hundreds of dollars by doing it yourself. All you need is a few free afternoons a month and a trip to your home improvement store. Don't forget; it's imperative to mow your lawn before a showing.
Cost: $$$
Wash Dirt Away
This is perhaps the easiest and most effective way to improve curb appeal. Attach a high-pressure nozzle to your garden hose and wash away dirt from your sidewalk, garage, and driveway. Be careful not to get water under your home's siding. Use vinegar or detergent diluted in warm water to wash your windows.
If you have a few extra hours and dollars, rent a power washer to clean the exterior. In a pinch, however, a garden hose will remove dirt just fine.
Cost: $
Take Lots of Pictures
Once you get your home curb appeal under control, use it to your advantage! Take some great photos of your landscape and exterior on the next sunny day and run them by your agent. In the digital age, beautiful pictures sell houses!